BTEC Qualifications
BTEC in Aviation Studies
Cadets who complete their Leading examinations can claim a BTEC award in aviation studies equivalent to 1 GCSE grade A-C for a payment of £30.
Cadets who complete all of their examinations up to and including staff part 1 can claim a BTEC certificate in aviation studies equivalent to 2 GCSE grade A-C. This certificate is currently being offered free of charge by No 2 Welsh Wing.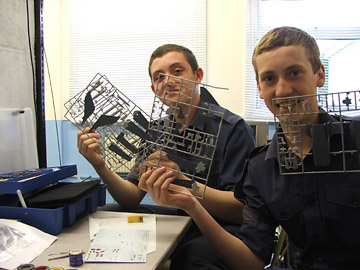 BTEC in Public Services
In addition to the BTEC in Aviation Studies it is now possible to gain a qualification that takes account of all your cadet achievements and is recognised outside the cadet organisation. Cadets can now work for their BTEC First Diploma in Public Services. This Diploma is equivalent to 4 GSCEs grade A to C. The Diploma takes into account not only the academic studies but also other activities completed by the cadet.
In order to gain the award you will have to complete 6 Units including:
The Public Services
Public Service Skills
Public Service Fitness
Outdoor Activities & the Public Services
Land Navigation with Map & Compass
Expedition Skills
Each successfully completed Unit and the overall Diploma will be graded as Pass, Merit or Distinction.
What do you as a Cadet have to do?
Answer:
Stay in cadets beyond your 16th birthday and complete a registration form available from your Unit Commander. Once completed, hand in your form to your Unit staff to be registered through Wing HQ.
Pass 1st Class and Leading Cadet exams, Map & Compass,Physical Activity (DOE Physical Section) and Expedition Training.
Two adventurous training activities
Give a 5-minute presentation
Pass a Wing NCO Course - leadership, teamwork & communications.
Complete Unit 1 Project (to be completed in Feb/Mar)
Answer some questions on Teamwork and Nutrition.
Unit 1 Project consists of roles and responsibilities of Public Services (RAF and one other e.g. Army), Jobs within the Public Services (RAF), Application and Selection Process (RAF) and Entry Requirements and Career Development (RAF).
While the work required to be completed for gaining the Diploma sounds a lot, most of it you may have already done or will do through your normal Air Cadet activities so any additional work will be worth the reward of the equivalent 4 GCSEs at Grade A* to C the First Diploma brings.