The Air Training Corps
The Air Training Corps (A.T.C.) is a national voluntary youth organisation, established on 5th February 1941 by King George VI. It is sponsored by the Royal Air Force and provides challenging aviation, adventurous and community activities.
The ATC is not a recruiting organisation for the Armed Forces but many members do go on to have careers in the Royal Air Force or other Services. Currently approximately 50% of all aircrew (pilots, navigators and NCO aircrew) and 47% of Officers are ex-Cadets.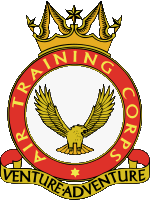 The Aims of the Air Training Corps are:
To promote and encourage among young people a practical interest in aviation and the Royal Air Force
To provide training which will be useful in the Services and civilian life
To foster the spirit of adventure and develop qualities of leadership and good citizenship
The ATC Motto is 'Venture Adventure'