14 August 2010
Simply Downhill Race 2010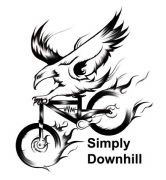 On the 14th of August 2010 the first downhill mountain bike race at Nant Gwrtheyrn took place and six of 1557 (Friars School) squadron cadets were there to lend a helping hand. The track having been built by Simon Ward and Tom Fryer (a CI from 1557) is the first of its kind on the Llyn Peninsula and this race really did determine its future. A future which is now very much sealed, with the track looking to hold bigger events in the near future.
The cadets worked tirelessly for 2 days each having their own section of track to marshal. They were the eyes and ears for the medical support on standby along the track and were able to warn other riders of extra obstacles (fallen riders) in their section of track. They carried out this work maturely and many of the racers on the day commented on their usefulness throughout the event. The medical support also praised them all at the end of the event for all their hard work.
1557 would like to send a huge thank you out to Simply Downhill, the organisers of the event, for their kind donation to the squadron. This donation has been used to buy four new tents which will be used on events like this in the future and Duke of Edinburgh expeditions.
Back to main page